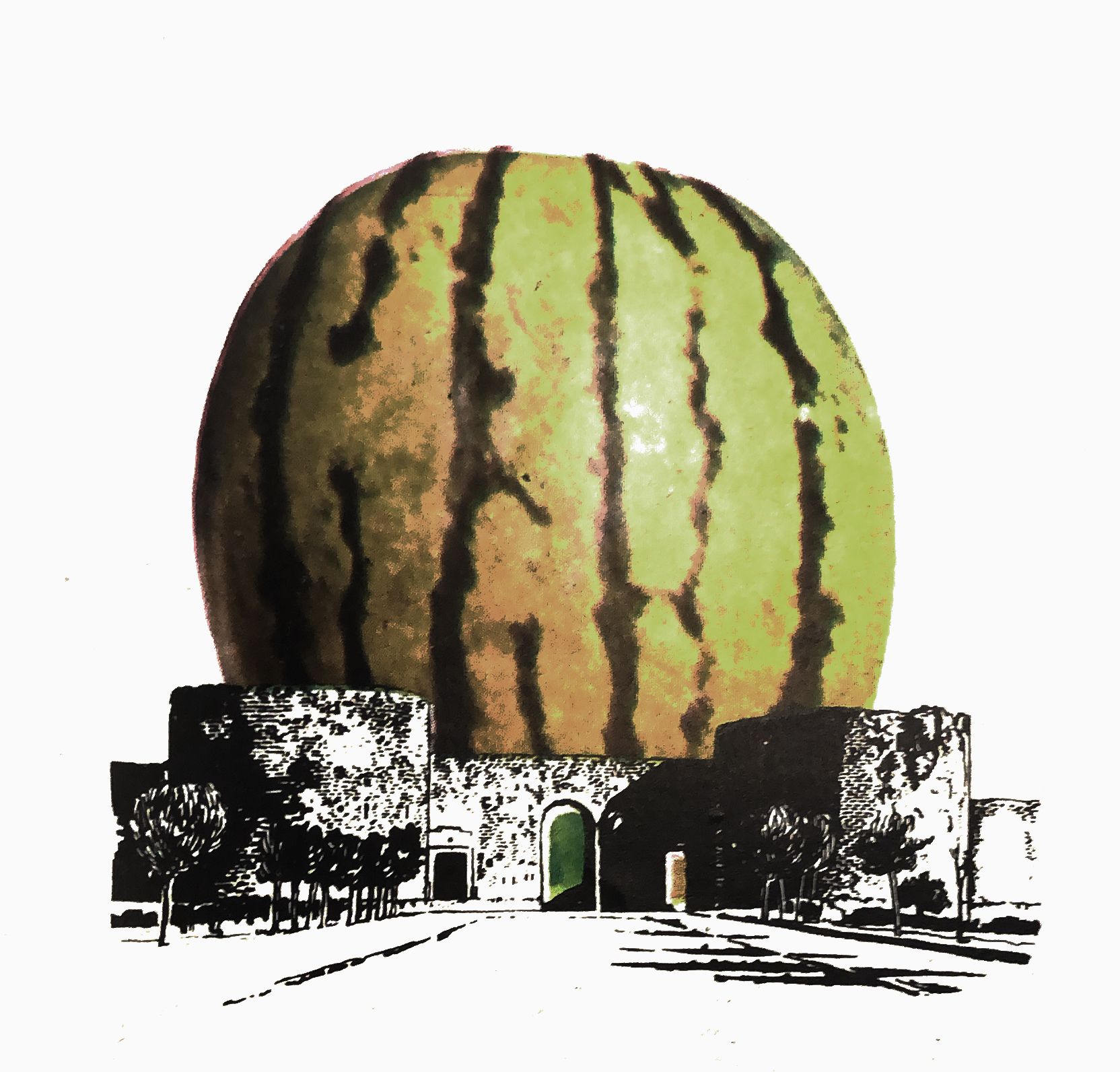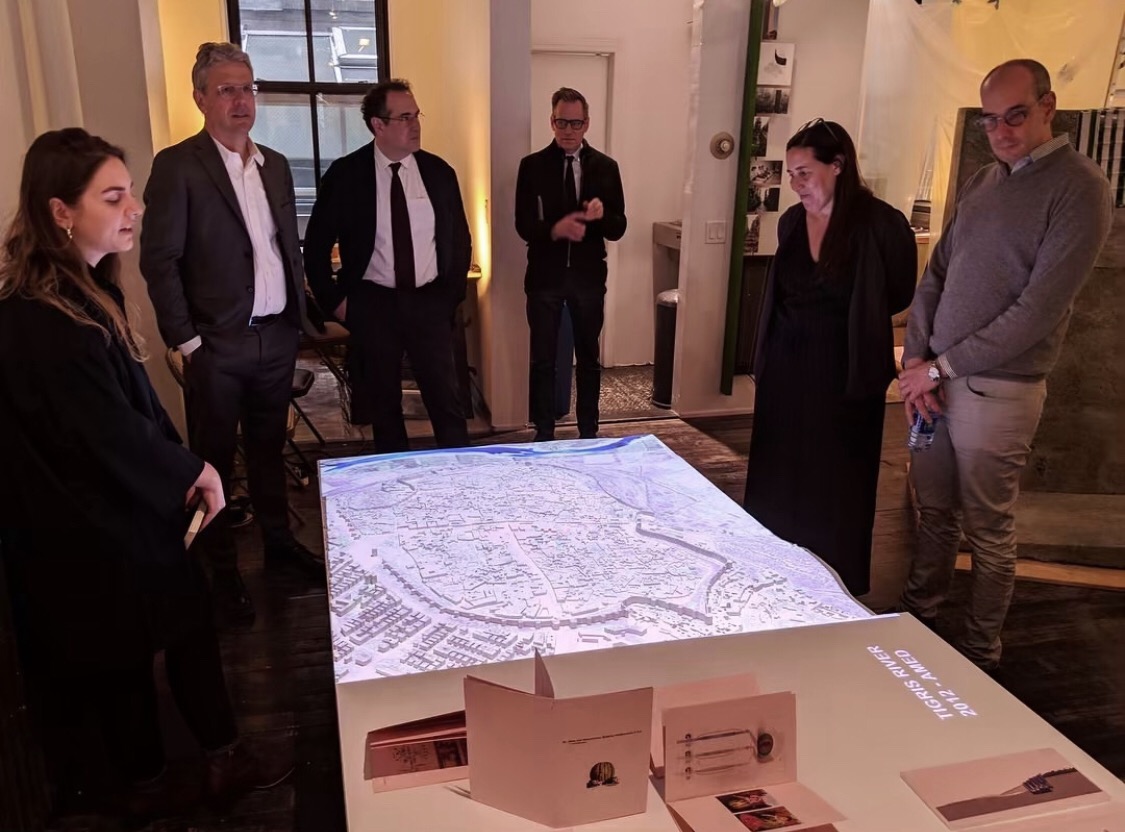 watermelons, walls
Advisor: Paul Lewis
Princeton University SoA, Post-Professional Master of Architecture Thesis Project


In the next 50 years, the Fertile Crescent will become the Scarcity Crescent due to 4 Celcius degrees increase in the temperature, and the Tigris River is also expected to dry up completely. In the middle of modern engineering solutions that degrade the relationship between the water, landscape, city, and citizens, what is the role of architecture as an adaptation tool to climate change? Considered as the capital of Mesopotamia, 8000 years old city of Amed which surrounded by the ancient walls, and located along Tigris River has four unique types of watermelons in danger of extinction cultivated outside of the walls.
The project is a comprehensive infrastructural intervention incorporates city walls, cultural history, environmental performance, and social programs to develop an alternative method to improve environmental resilience and agricultural production. However, it generates a new model of rainwater harvesting and storing water by criticizing existing infrastructural solutions and rethinking of the water management by revitalizing the walls and the no man's land in between the settlements. The walls have existed as an infrastructure to protect the city, now remains monumentally as a collective memory of the city within the state of ruins. The new support not only harvests the rainwater but also resurrect the old city walls by creating its former double wall function. However, this time it does not visually obstruct the connection between the walls and the city. Moreover, the intervention also examines the genealogy of vernacular infrastructures and the cultural history of public spaces, such as Roman and Ottoman water fountains and cisterns as social structures. The proposal includes a social infrastructure with four relevant programs. Each program is explicitly designated for a single area within the inner periphery of the walls: Farmer's Market, (Watermelon) Festival Area, Education, and Cistern.
dokuma

Collaborated with Ahmet Çam
Instructors: Tansel Korkmaz, Alişan Çırakoğlu
İstanbul Bilgi University


Antalya is a mediterranean coastal town of Turkey embraced by Taurus Mountains. Natural borders caused late industrial developments in town. Sümerbank Textile Factory has an important role in urban memory with its identity of campus. The aim for this semester is to transform an industrial heritage with a new program by asking ourselves, what is valuable to protect, what needs to be changed, how to show the difference between new and old, how can we regenerate a campus which the city needs. What is taken from campus must have possibility to be given back when it is needed. A museum about Factory's history and Biennal are expected programs from all students, but the approach of refurbishment needs to be developped for all around the campus after its environment and the city. This project is formed by cooporation of 2 students. As two students we developped a new approach for pr ogramming in campus by analyzing city pattern's. Antalya has multicultural structure within agriculture, greenhousing, tourism, ancient greek ruins and resorts. Initially, we tried to know its own demography and the city overall. Then we assigned programs after these analysis with research of a strategy for gathering these programs by their time period headed by Clubs. Secondly, we looked at factory building and made some adjustments without damaging its own language.

neo-mnemonic device

Instructors: Amid.Cero9
Princeton University SoA


Grounded on abstract and theoretical aspects, After-POPS however is a design studio committed with the architectural project as a form of knowledge in itself. It is dedicated to explore new languages that would overcome the antithetical notions of abstraction and figuration, in favour of processes of accumulation of links with any kind of cultural material throughout history and social practices, to be finally submitted to a process of formal and conceptual synthesis. Our speculative projects will be conceived as a free fall into creativity and play, with the aim of defining new, subtle and rich forms of beauty. As engineers of artificial paradises and social constructs, we will conceptually and formally search for refined answers to the quest for public space, in which intellectual clarity does not exclude accuracy, richness, and multiple levels of reading. Public Space is created while commemorating by oneself, then shared, celebrated, and self-constructed as a memorial. The temporary memorial dismantles itself after the journey.
Instructors: Tansel Korkmaz, Alişan Çırakoğlu
İstanbul Bilgi University
Since the beginning of civil war in Syria, more than 2.500.000 Syrian escaped from battle and took refuge also in Turkey as asylum seekers. At the beginning of the sanctuary, Turkish citizens welcomed first seekers, still after couple years citizen acted them inhospitable way whenever have realized the permanent situation . Given area has an important role in its neighborhood Kasimpasa which is wrapped by artery roads and includes isolated culture in the center of the city Istanbul. The other challenge is the topography formed by slopes and 25 meters height wall. Graduation project has 3 different scales in title of 'Re- connection'; in Istanbul macro-form scale, in neighborhood scale and in building scale. The program is not only a community center for asylum seekers to get informed but a place to gather refugees with citizens.

assetscraper

Instructors: Andres Jaque
Princeton University SoA

"What is the robbing of a bank compared to the founding of a bank?" Bertolt Brecht quotes. Real estate market became the inconspicuous reality that is always in its place in the cities as the representation of the dark side of the economic system including offshore. The real estate investments in the downtown reminds us the ostrich-posture where the most precious and important part of the animal exposed when it struggles to conceal it. In the Financial Secrecy Index driven by Tax Justice Network in 2018, the United States ranked second most popular Tax Haven in the World just after Switzerland. Besides, United States fails to prevent money laundering, having tax administration capacity, avoiding promoting tax evasion, creating transparency in its judicial system in tax matters and making statistics on finance, trade, investments, and taxes publicly accessible. In 2015, a report called Towers of Secrecy: Stream of Foreign Wealth Flowed to Elite New York Real Estate published by the New York Times before Panama Papers. The report was scrutinizing the billionaires behind the shell companies, and how real estate became a device to mobilize the money and use Manhattan as a new Real Estate Tax Haven. However, Time Warner Center located in Columbus Circle has become the artifact of the use of shell companies in New York with the 37 percent of foreigner's ownership. Today, 60 percent of the apartments belong to shell companies in Time Warner Center. The time, location, a mixed-use program was enough to attract the billionaires to purchase penthouses from the Time Warner. While all these assets owned by secret personas stays in secret, is it possible to crack the shells and allocate architecture as a domesticized assetscraper in Manhattan? The list of personas accumulating their assets, they are using the shell companies as a device to detach their allocation. They want to secure their assets where there are legal security and economic stability. The project is experimenting with the new society and new typology created by disclosed assets by cracking the shells.

carapace
Collaborated with Ekin Arslan, Elif Özüçağlıyan, Ece Abdioğlu, Eylül Utkan, İdil Işıksoy, Deniz Eskiçırak, Kübra Koyuncu, Pelin Tatlıcı

Instructors: Şebnem Yalınay Çinici, Benay Gürsoy, İdil Erkol, Caner Bilgin

İstanbul Bilgi University


"Being the studio of freshman students where the "Carapace" project to be exhibited at the 16th Venice Architecture Biennale was produced, ComputationBased_BasicDesign aims to integrate the high-end design and production technologies to education activities starting from the very first year of academic studies.
Designed by Ece Abdioğlu, Ekin Arslan, Ece Emanetoğlu, Deniz Eskiçırak, İdil Işıksoy, Kübra Koyuncu, Elif Özüçağlıyan, Pelin Tatlıcı and Eylül Utkan in 2013 and installed at the garden of santralistanbul,"Carapace" was produced as the final project of the freshman students' ComputationBased_BasicDesign studio.
Aiming to acquire a deeper grasp of material, geometry and high-end design-production technologies and developing innovative ways of design+production, the project was conducted as a 1:1 Material_Performance studio problem."*